Residential
Internal & External Residential Pest Control Sprays
Borers Pest Control & Treatment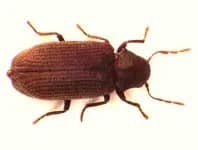 There are many types of borers in Australia, but they all have one thing in common: an appetite for the timber found around your home, from trees in the yard to floors, structural elements and furniture inside the house.
In extreme cases, borers can cause the total collapse of flooring and structures; as such, any infestation must be dealt with swiftly.
The adult female borer lays eggs in dry, seasoned timbers around the home. These eggs hatch as larvae and begin to feed on the timber's starch content. As they feed, they create a network of tunnels through the timber.
Over a period of time, the larvae will pupate through to adults, at which point the adult females will emerge to lay more eggs, repeating the life cycle and increasing the infestation.
Recognising and treating a borer infestation
Borers can be identified in two ways: by the presence of visible holes in your timber flooring, structures or furniture; or by the presence of "frass" (the dust-like debris or excrement they produce).
In extreme cases – where an infestation has gone untreated for an extended period of time – removal or replacement of damaged timber with highly resistant timber may be necessary in order to preserve the structural integrity of your home. This process can obviously be quite expensive.
It is best to recognise the signs of borers early, while the infestation is still moderate. KR Pest Control will apply the appropriate insecticide to the flooring and ensure the infestation is wiped out before further damage can occur.