Residential
Internal & External Residential Pest Control Sprays
Cockroaches Pest Control & Treatment
At KR Pest Control we understand the importance of having a pest-free home, which is why we are here to help. With over 40 years experience in the industry, we've uncovered ways to prevent, minimise & rid those unwanted and unsightly pests.
Large and highly visible, cockroaches are among the most well-recognised pests and are a regular sight in homes throughout Australia. While harmless in direct contact – they cannot bite or sting you – cockroaches are certainly capable of spreading disease such as salmonella, gastroenteritis, diphtheria and can even cause urinary tract infections What's more, they are prolific breeders; a German cockroach, for example, can spawn 40 nymphs every 13 days, meaning it takes just a couple of weeks for an infestation to occur.
There are simple initiatives and ways you can reduce the infestation of cockroaches in and around your home which we outline below.
When you first notice the signs of cockroaches in your home, it is critical to act as quickly as possible. Some tips and tricks to minimise their presence are outlined below:
1. Keep areas and surfaces free from food or crumbs. Sanitation is necessary to effective cockroach control.
2. Minimise objects that allow cockroaches to hide in. Cardboard boxes can be a favourite of theirs.
3. If you have a dustbin, consider moving it away from the sink area, and also ensure the bin is sealed.
4. German cockroaches enjoy moisture, so organise to repair any leaky taps or drains.
5. Minimise the amount of wood chips used in the garden in close proximity to the home.
There are around 450 species of cockroaches in Australia, but very few are pests.
The three main types of cockroaches commonly found in homes and businesses in Australia include
– the German cockroach – Australian cockroach and – American cockroach
There are two key types of cockroaches:
These are the larger cockroaches you'll often see, measuring 4cm on average and with a reddish-brown hue. They can fly and live mostly in:
Sewers
Gardens
Garages
Roof voids
Subfloors
Outdoors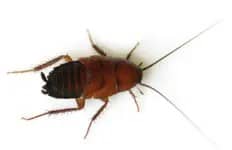 Measuring, on average, about 1cm in length (though known to get bigger), these cockroaches are more severe. They are brown to almost black in colour and can infest:
Kitchens
Bathrooms
Launches
Commercial premises
Grease trap rooms
Electrical appliances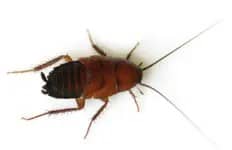 All cockroaches are attracted to uncovered food, often living in areas where food is prepared or consumed and feeding off any food spills that might occur. Additionally, they are nocturnal; you are most likely to see them at night. Indeed, if you happen to see one during the day, it often means their hiding places are overcrowded and can be a strong sign of infestation.